Please Note: This article is incomplete. If you'd like to add to this article, please do so according to your personal Mushmoot IG experience. Do not copy off of other FlyFF Wikis.
Pickup Pets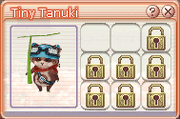 are Premium pets that can be purchased from the Mushmoot Seller in Flaris or from the Premium Shop. Pickup Pets follow a player around picking up their Master's loot for them.
Some Pickup Pets are also Buff Pets. Buff Pets have 9 slots that can be unlocked with Bead Slot Keys
, sold by the Cash Shop Seller.
Additionally, Non-Buff Pets can be upgraded to Buff Pets utilizing a Pick-up Pet Upgrade.
Stat Beads


fill the available Buff Pet Slots and provide extra stats to the player for a limited time.
Pickup Pets can also be Blessed to add further extra stats to their Master.
Key: Dshop= Donator Shop; RCM= Red Chip Merchant; MS= Mushmoot Seller
| Pet | Description | Buff? | Where to Get | Price |
| --- | --- | --- | --- | --- |
| Baby Lawolf | | No | MS, dShop | |
| Kitty | | No | MS, dShop | |
| Spike | A Spike Pick-up Pet | No | MS, RCM, dShop | 1k RC |
| The White Rabbit | | No | MS, dShop | |
| Tiny Tanuki | | Yes | MS | |
| Cheshire Cat | A Cheshire Cat Pick-up Pet | No | RCM, dShop | 1k RC |
| Lumia | A Lumia Pick-up Pet | No | RCM, dShop | 1k RC |
| Baby Bang | A Baby Bang Pick-up Pet | No | RCM | 1k RC |
| Baby Panda | A Baby Panda Pick-up Pet | No | RCM, dShop | 1k RC |
| Baby Cobra | A Baby Cobra Pick-up Pet | No | RCM, dShop | 1k RC |
| Cute Frog | A Cute Frog Pick-up Pet | No | RCM, dShop | 1k RC |
| Cute Hamburger | A Cute Hamburger Pick-up Pet | No | RCM, dShop | 1k RC |
| Baby Turtle | A Baby Turtle Pick-up Pet | No | RCM, dShop | 1k RC |
| Little Lykan | A Little Lykan Buff Pet | Yes | RCM | 1k RC |
| Baby Cow | | No | MS, dShop | |
| Baby Hamster | | No | dShop | |
| Baby Iguana | | No | dShop | |
| Baby Penguin | | No | dShop | |
| Baby Pig | | No | dShop | |
| Doggy | | No | dShop | |
| Cute Lamb | | No | dShop | |
| Baby Beagle | | No | dShop | |
| Baby Rabbit | | No | dShop | |
| Baby Aibatt | | No | dShop | |
| Small Baby Black Dragon | | No | dShop | |
| Baby Horse | | No | dShop | |
| Baby Monkey | | No | dShop | |
| Baby Chicken | | No | dShop | |
| Smart Owl | | No | dShop | |
| English Bulldog | | No | dShop | |
| Baby Fu Lion | | No | dShop | |
| Patches | | No | dShop | |
| Tommy Toucan | | No | dShop | |
| Johnny Four Wheels | | No | dShop | |
| Joey | | No | dShop | |
| Polar Bear | | No | dShop | |
| Baby Leyena | | No | dShop | |
| Baby Luia | | No | dShop | |
| Little Mia | | No | dShop | |